The Keynote Speeches
Leadership, Management & Business Motivational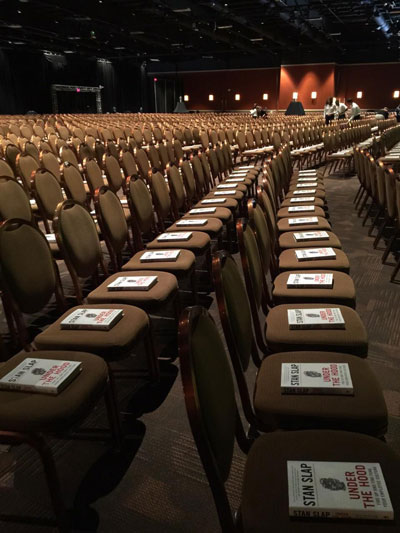 Have a little less time but want a whole lot more intensity?

Book a keynote speech by Stan Slap.
Stan was creating success in companies long before he ever climbed on a stage to talk about it. You'll hear the same thought leadership given to many of the world's top organizations. And you'll hear it in a way that inspires your audience to take immediate action and provides the tactical steps to make it possible.
Stan is consultant of choice to many of today's biggest, smartest and most demanding companies. His commitment to results is the same, be it a custom strategic plan or a keynote speech. His speeches are a non-stop combination of epiphanies, entertainment and experience. They're delivered in a style that is provocative, intelligent, shamelessly heartfelt and wickedly funny. Yet no matter how large the audience, they retain a remarkable sense of intimacy—basically, no place to hide.
We are the premier event for large associations to consider keynote speakers. Stan Slap was the star of the show. He was absolutely amazing both in his own thought leader session of 500 people, which was standing room only, and in the general session in front of 3,000 people. You cannot believe how many positive comments I heard about his presentation.
Sharing a stage with Stan Slap is like trying to share a steak with Mike Tyson. I wouldn't recommend it.
I watched a roomful of CEOs forget their lunch, forget their meetings, forget their cell phones. If Stan Slap hadn't ended his talk, they would still be sitting there. They were in church.
Stan delivered a keynote to our conference that caused more jaws to drop, more brains to hurt, and more tweets flying than any other speaker in our line-up. And not because what he said was controversial. It was because what he said was true.
SUBJECT
Reveals why an employee culture is an independent organism with its own rules, beliefs, and motivations.
ULTIMATE MESSAGE
"You can't sell it outside if you can't sell it inside."
OVERVIEW
Even the smartest companies subscribe to the most dangerous strategic myth: A strategy has to be planned well to be successful. In fact, a strategy has to be implemented well to be successful. "Implemented well" starts with securing the fierce support of your employee culture. If the culture wants something to happen, it will; if it doesn't, it won't. In this mind-blowing keynote speech, Stan will explain exactly how and why your employee culture will buy any strategic or performance goal and how to avoid the Seven Deadly Sins of Strategic Implementation that lie in between 1, 2 and 10!
SUBJECT
How to create a brandable customer experience for the ultimate competitive edge.
ULTIMATE MESSAGE
"You must be branded for how you sell, not just for what you sell."
OVERVIEW
Every company sells both a product and a process — an experience that customers go through to buy and use that product. It's the quality of the process that most decides your customers' decision to advertise and sell for you—to brand you. In this myth-busting keynote speech, Stan will explain how to create a brandable customer experience, cause your employees to protect and promote it and your customers to recognize it as intentional. He'll explain what doesn't work even though it's most often tried, what will work, and the ultimate key to creating a compelling, competitive and durable brand.
SUBJECT
The unbeatable impact of truly committed managers.
ULTIMATE MESSAGE
"What is even more important than how to be a leader is why to be a leader."
OVERVIEW
Any manager can appear fully productive and enthusiastic simply because they're intellectually and financially committed. But if you've ever witnessed a human being emotionally committed to a cause—working like they're being paid a million and they're not being paid a dime—you know there's a difference and you know it's big. It's this difference that companies want when they say they want their managers to be leaders because leaders are emotionally committed and inspire it in others. In this riveting keynote speech, Stan will explain the importance of emotional commitment to managers and their companies. He'll demonstrate how real leadership starts and exactly what it looks like when it's done right. And he'll explain the one thing even more important than how to be a leader: why to be a leader.
SUBJECT
How to resolve problems with accountability and create a solution mentality throughout the company.
ULTIMATE MESSAGE
Time to wake 'em and shake 'em. Tough Times: Tougher Teams comes alive in a persuasive, profound and entertaining presentation. By Stan Slap or one of SLAP's other extraordinary presenters. Includes key points, examples and immediately actionable tactics. Available in 30- 45-, 60- and 90-minute versions
NEW VIDEO COMING SOON